The Future Is Not Unwritten

A narrative corridor between art and science that approaches the moral renegotiation of the human being



THE FUTURE IS NOT UNWRITTEN is a Smart Film about Artificial Intelligence and Transhumanism. An intelligent film which narrates and transforms itself endlessly, using machine learning and deep learning code. Implemented algorithms – used by GOOGLE to create AI – are utilized to explore the gigantic dimension of current developments.
Are we developing into "Übermenschen", into "Super-Humans" or are we getting rid of ourselves? Ethical categories or historical blueprints are missing: there is no case study on the abolition of mankind.
THE FUTURE IS NOT UNWRITTEN is an alternative contribution to this discourse. A narrative corridor between art and science that approaches the moral renegotiation of the human being.
Idea, Art Director, Director, Producer: Susanne Steinmassl
Development: Susanne Steinmassl, Maximilian Heitsch, Florian Kreier
Head of Code: Maximilian Heitsch
Script Development: Susanne Steinmassl, Florian Kreier
Design: Maximilian Heitsch, Susanne Steinmassl
Author & Music Curation: Florian Kreier
3D Animation: Phyllis Josefine, Susanne Steinmassl
Expert Interviews: Eva Neidlinger
Code: Raphael Höps (Machine Learning Code), Tom Bauer (Music), Niklas May (Machine Learning Code)
Director of Photography: Ben Bernhard (Studio), Karl Kürten (Japan)
Contributions Music: Angela Aux, Johannes Oberauer, DVDV, Cico Beck, Beni Brachtel, Marcus Grassl, Sam Irl, Leroy
Exhibition Design: Matthias Kestel
_________________________
The work is realized as part of the media prize scholarship of The University of Television and Film Munich and is financed by the KIRCH Foundation and Regina Hesselberger. The work is also supported by the Goethe Institut Tokyo, ARRI and funded by the City of Munich Department of Arts and Culture.
_________________________
ABOUT THE ARTIST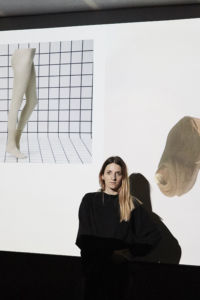 SUSANNE STEINMASSL is a director and visual artist. She studies film directing at the University of Television and Film in Munich. Before she finished a master in philosophy, literature and politics. Susanne Steinmassl focusses on the boundaries of the medium film. Her works are shown internationally at festivals and in galleries (e.g.  Int. Shortfilmfestival Oberhausen, MIEFF Moscow, Kunstverein Munich, KINO DER KUNST, Digital Choc Tokyo). Her experimental documentary "An Ton Kaun" won the 3sat Promotional Award at 61th International Short Film Festival Oberhausen in 2015. Her film THE SHOW SHOW was part of the International Competition of KINO DER KUNST and was nominated for the VIDEODOX Award 2017. For her AI based work THE FUTURE IS NOT UNWRITTEN, she received the media art scholarship by the KIRCH Foundation and is exhibited internationally (e.g. Goethe Institut Tokyo, CCC, MCBW). Susanne Steinmassl works as well as video artist for different theaters (e.g. Thalia Theater Hamburg, Münchner Kammerspiele) and she collaborates with musicians and bands – working as Live VJ or creating music videos. Her latest music video works were discussed in the book called "AFTER YOUTUBE" (Strzelecki Books).
WHEN & WHERE?
Tuesday, March 12th, 09.30 am – 2.30 pm & Thursday, March 14th 2 pm – 4 pm
GERMAN HAUS at SXSW | 410 E 6th St, Austin | TX 78701, USA